OK, I'm gonna keep it real with ya!
I have a shopping problem!
Did you all hear about the 50% off sale going on at J.Crew Factory this weekend? If you're like me, you were probably jumping for joy at the email. Well, I literally ran there the first free second I had!
My shopping trip can be described like this:
Have you ever experienced putting EVERYTHING in your cart while online shopping, then before you check out, delete a bunch of it realizing you don't really need all of it? Not to mention it was adding up to an unthinkable price!
Yeaaa...well...in this situation I didn't delete my items before getting to the register.
I went in there for these two things:
And left without either of these, but got a whole lot of other goodies!
How about my husband's gonna kill me! LOL
But, I got some really good essentials and something to wear on Easter!
I've been chosen this week from
Coffee Beans & Bobby Pins
link up to be in Amy's top 5! I'm so honored that she chose to feature me in her weekly top 5! I found Amy through Instagram and I love reading her little corner of the internet. If you haven't checked out her blog, head on over and leave a comment to show some love! :)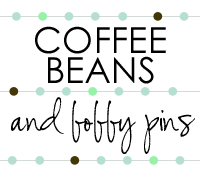 Hoping everyone has a blessed holiday weekend!